Colt and I were very grateful for the gifts we received this Christmas. But, of all the gifts, one stands out ...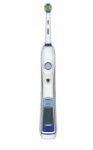 The electric toothbrush. Can you guess the gift-giver? Yes, my brother, Mark, who is currently in dental school. If you combined all of the procedures and things done to our mouths, Mark, Karlie and I have probably almost had it all. Okay, maybe not 'all,' but pretty dang close. As I have experienced the switch from a normal toothbrush to this one, I have been inspired. Inspired to tell my story. This series entitled "dentist the menace" will take you on a journey about trips to the dentist/orthodontist/oral surgeon and will show you how our relationships went from 'hate' to 'love.' And, hopefully, you can laugh along the way. :)
I'll start at the very beginning ... a very good place to start. The earliest memory I have of the dentist is probably when I was about 3 or 4. It was an office of colorful chairs and video games. No way could this be a dentist's office! This is going to be fun! NOT. I got in the chair and he began to stick his big glove fingers in my mouth, so I did the only thing I knew to do. I bit them. I remember him jerking his fingers out of my mouth and, in a very passive-aggressive way, scolding me. From that moment, I knew that a trip to the dentist meant torture.
So, Mark, when you're big and famous and have your own office, don't trick kids with the fun toys. You'll be so fun yourself that you won't even need them!